This is an archived article and the information in the article may be outdated. Please look at the time stamp on the story to see when it was last updated.
A day after the devastating fire that swept through part of the San Luis Rey Downs training site, saddened and sickened horsemen were trying to keep up their spirits amid a blackened area that one trainer described as a war scene.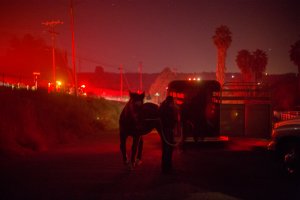 Late Thursday afternoon a wind-driven fire descended on this 500-stall facility for thoroughbreds. The threat was there but not menacing, until it hit. As a precaution, some horses were being transported to Del Mar in the morning and early afternoon, some 35 miles away from this north San Diego County property, but no one expected the speed with which the fire would hit.
"It went from one minute being, 'Yeah, we're going to be OK,' to 'Oh, my God, what are we going to do?'" said trainer Doug O'Neill, who was repeating the words of his chief assistant Leandro Mora, who was there when the fire hit.
It was originally estimated that 25 horses died in the fire or of fire-related injuries, although some on the scene fear it will go higher than 30.
Read the full story on LATimes.com.
A GoFundMe has been set up to help human and equine evacuees of the Lilac Fire.