This is an archived article and the information in the article may be outdated. Please look at the time stamp on the story to see when it was last updated.
"Ugly Betty" actress America Ferrera is thanking Republican presidential candidate Donald Trump for his controversial comments on Latino immigrants.
In an open letter featured on the Huffington Post, Ferrera thanks Trump for his comments because they have "ignited a fire" in Latino voters.
"You see, what you just did with your straight talk was send more Latino voters to the polls than several registration rallies combined! Thank you for that" Ferrera's letter reads. "Here we are pounding the pavement to get American Latinos to the polls, while your tactic proves most effective."
A wave of criticism and abandoned business deals followed Donald Trump's presidential candidacy announcement after the 2016 hopeful referred to Latino immigrants as people who bring drugs, crime and rape into the United States.
However, according to Ferrera's letter, what Trump failed to recognize when making these comments is the growing population of Latino voters. Ferrera referred to these statistics in her letter, citing an article by NPR that said according to census data, the Latino population grew more than 49 percent from 2000-2012 compared to the rest of the country, which only grew by 5.8 percent.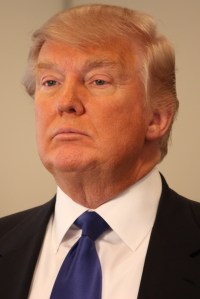 Trump's comments have also been criticized by fellow Republicans, most notably former New York Governor and Republican presidential candidate George Pataki who has launched a petition to "stand up" against Trump.
"We will silence you at the polls. We will vote and use our growing position in U.S. politics. Our fellow Americans who understand and value our contributions will join us. We know there is nothing that scares you more," Ferrera said.
Trump has yet to directly respond to Ferrera's letter, but appears to be sticking with his original rhetoric about immigration via Twitter, while also recently citing a Huffington Post poll that lists him in first place among Republican candidates.
Organizations that have cut business ties with Trump include NBC, Univision and Macy's, and have in turn received vast public criticism and law suit threats from Trump. But he has yet to directly respond to the actress's letter.