This is an archived article and the information in the article may be outdated. Please look at the time stamp on the story to see when it was last updated.
Al Qaeda in the Arabian Peninsula claimed responsibility Wednesday for last week's rampage that killed 12 people at France's Charlie Hebdo satirical newspaper.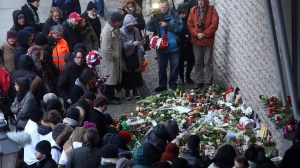 The attack was years in the making, AQAP claimed.
In a video, the group said the late Anwar al-Awlaki masterminded the attack. The U.S.-born Muslim scholar and cleric was spokesman for AQAP before his death in 2011.
The group did not claim responsibility for Friday's deadly siege at a kosher grocery store in Paris, but praised it.
U.S. authorities say they think "the AQAP video claiming responsibility for last week's attack against Charlie Hebdo is authentic," the Office of the Director of National Intelligence said Wednesday afternoon. But they weren't ready to say that AQAP really helped carry out the assault.
"We're not there yet. There are good indicators" that the group was behind the attack, but the intelligence community is still assessing, a senior administration official told CNN.
Earlier in the day, U.S. National Security Council spokesman Alistair Baskey said that, "if genuine, this is only the latest example of the wanton brutality that is al Qaeda's calling card and which it has visited upon innocents of all faiths."
The claim surfaced as Charlie Hebdo's new issue -- featuring the Prophet Mohammed on the cover -- sold all 3 million copies, in a sign of defiance against the terrorists. More copies are coming, the magazine said.
Hollande seeks military change
France was planning military cutbacks. But after the attacks, President Francois Hollande called Wednesday to change the plan.
"The exceptional situation that we're in must lead us to revise our rhythm for reducing personnel which was planned for the next three years," Hollande said, speaking to members of a crew before they embarked on the Charles de Gaulle aircraft carrier to the Middle East.
He called on Defense Minister Jean-Yves Le Drian to develop new proposals by the end of the week, "taking into account, of course, budgetary needs."
After meeting with the defense council next week, Hollande said, he will then make "an immediate decision."
54 cases of alleged terror support
Meanwhile, 54 cases have been opened against people in France for allegedly expressing support for terrorism since the attacks, the Justice Ministry said Wednesday.
It's unclear how many people are blamed for the 54 infractions, ministry spokesman Pierre Rance said. The investigations involve phone threats, cyberattacks, Facebook posts and more.
Some people are in prison awaiting trial, and others have already been convicted, Rance said. Some people have been released after being reminded of the law or being given a notice of a court date.
Penalties vary, Rance said.
Minister of Justice Christiane Taubira "considers that words or actions of a racist or anti-Semitic nature, or that cause hateful, violent, or discriminatory behavior, or advocate terrorism, or target security forces must be fought and pursued with the utmost vigor," Taubira's office said in a statement.
Taubira "asked prosecutors to exercise extreme reactivity in the conduct of public action against the perpetrators of such crimes," the statement said.
'Blessing from Allah'
The claim for the Charlie Hebdo attack came in a video showing AQAP commander Nasr Ibn Ali al-Ansi, with pictures of the two dead Paris gunmen -- brothers Said and Cherif Kouachi -- in the background.
"When the heroes were assigned, they accepted. They promised and fulfilled," al-Ansi said.
He praised the attack, saying it was revenge for Charlie Hebdo's depictions of Mohammed.
Al-Ansi blamed not only Charlie Hebdo, but also France and the United States in his statement.
"It is France that has shared all of America's crimes," al-Ansi added. "It is France that has committed crimes in Mali and the Islamic Maghreb. It is France that supports the annihilation of Muslims in Central Africa in the name of race cleansing." ("Islamic Maghreb" refers to North Africa.)
"It was a blessing from Allah" that the kosher market siege, in which four hostages were killed, took place about the same time, al-Ansi said.
The tangled trail
Cherif and Said Kouachi are both said to have traveled to Yemen. Cherif told BFMTV that he'd trained in Yemen with AQAP.
Cherif Kouachi used his brother's passport to travel to Yemen in 2011, two Western intelligence sources with knowledge of the matter told CNN, adding that it was likely he had trained with AQAP there.
U.S. investigators say they think Cherif Kouachi left Yemen with as much as $20,000 from AQAP to carry out attacks, a U.S. official said Wednesday.
The online publication The Intercept reported Friday that AQAP was claiming responsibility for the Charlie Hebdo attack.
"The leadership of AQAP directed the operation and they have chosen their targets carefully as a revenge for the honor of the prophet," the group said in a statement, The Intercept reporter Jeremy Scahill told CNN's "The Lead."
Max Boot, a senior fellow with the Council on Foreign Relations, tweeted Friday, "AQAP makes itself relevant again with #charliehebdo attack. Competing with ISIS for attention."
Amedy Coulibaly, accused of being the kosher market terrorist, purportedly told authorities before he was killed that he belonged to ISIS.
A week of grief
A week ago, the newsroom of Charlie Hebdo was shattered in a gruesome attack that killed 12 people and launched three days of terror in France.
The grief and cries for free speech reverberated around the world. So did questions about whether the newspaper should provocatively depict the Prophet Mohammed, an act that many Muslims deem offensive.
But that's exactly what surviving staff members of Charlie Hebdo did -- selling its latest edition Wednesday with an image of a crying Mohammed.
"All is forgiven," the cover reads.
Such words could be cathartic for both sides of the debate. But freedom of speech in France has its limits.
French comedian arrested
Controversial French humorist and actor Dieudonne M'bala M'bala, better known as simply Dieudonne, was arrested in Paris, accused of publicly supporting terrorism, multiple French media reported.
One Facebook post read: "You should know tonight that as far as I am concerned I am Charlie Coulibaly" -- an apparent reference to Amedy Coulibaly. Dieudonne's Facebook post has been removed.
Dieudonne has previously been fined several times in France for anti-Semitic commentary. Last year, the French government said it wanted to ban his live performances.
On Monday, Dieudonne issued a statement with his stance on the terror attacks.
"Since the beginning of last year, I have been treated as public enemy number one, when all I try to do is make people laugh, and laugh about death, because death laughs at us all, as Charlie knows now, unfortunately," he wrote in a letter to the French interior minister.
On guard
With France on its highest level of alert, it has deployed 10,000 troops across the country. Thousands of police officers have also been deployed, including hundreds assigned to protect Jewish schools.
Although authorities killed the Kouachi brothers and Coulibaly, the hunt is still on for Coulibaly's widow, Hayat Boumeddiene, who may have played a role in the attacks.
And a Frenchman arrested in Bulgaria could provide further clues.
Fritz-Joly Joachin was arrested near the border with Turkey for allegedly kidnapping his son, Bulgarian Foreign Ministry spokeswoman Betina Joteva said.
The ministry said that Joachin will remain in custody until at least January 20, when a "court will consider (a) second warrant related to terrorism charges."
Prosecutors said the terrorism charge is regarding Joachin's contacts with the Kouachi brothers, the AFP news agency reported.
"The charges are for participation in an organized crime group whose aim was ... terrorist acts," Bulgarian public prosecutor Darina Slavova said.
It's not clear what Joachin's contact with the Kouachi brothers entailed.