This is an archived article and the information in the article may be outdated. Please look at the time stamp on the story to see when it was last updated.
​​​Amazon founder Jeff Bezos and his wife, MacKenzie Bezos, donated $33 million to fund 1,000 scholarships for Dreamers, immigrants who were brought to the United States illegally as children.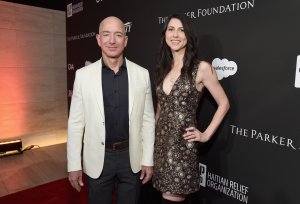 The money will go to TheDream.US, the largest scholarship program for Dreamers. Each student receives $33,000 over four years to pay for college tuition, fees and books, the organization said. More than 2,500 students are enrolled in college with the help of the scholarships.
In September, President Trump moved to phase out the Deferred Action for Childhood Arrivals program, or DACA, putting 700,000 young immigrants at risk of deportation. Every two years, Dreamers could renew their DACA status and obtain work permits if they met certain requirements.
Dreamers have been at the center of the immigration debate, putting pressure on Congress to come up with a better legislative solution. On Jan. 9, a federal judge in San Francisco temporarily blocked Trump's decision to end the DACA program.
Read the full story on LATimes.com.