This is an archived article and the information in the article may be outdated. Please look at the time stamp on the story to see when it was last updated.
An Amber Alert was issued for a 7-month-old girl after Virginia State Police said Emma Grace Kennedy was abducted by her father - an armed sex offender - from  a gas station in Danville Sunday evening.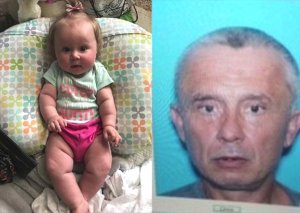 Emma Grace Kennedy is believed to be in "extreme danger," according to police.
She is described as a white female, 2 feet 2 inches tall and weighing 18 pounds. She has blue eyes and short blonde hair. She was last seen wearing a light blue onesie, according to KTLA sister station WTVR in Richmond, Virginia.
Troopers said the child's abductor is believed to be her father, 51-year-old Carl Ray Kennedy.
Police said Kennedy, who is armed with a knife, assaulted the infant's mother before abducting the girl at the Kwik Stop on Riverside Drive in Danville at 7:55 p.m.
Kennedy is described as a white male, 5 feet 8 inches tall and weighing 170 pounds. He has short gray hair and green eyes.
Officials said Kennedy has a number of tattoos: a skull on his left forearm, a wizard on his left upper arm, a skull with a bandanna over its mouth on his right forearm and a pit bull with American bulldog written under it on his upper right arm.
Additionally, he has an eye tattoo on the back of his right hand.
He was last seen wearing a brown short sleeve shirt, gray shorts and black and white Sketchers.
Kennedy is a registered sex offender in North Carolina who was recently released from jail on drug distribution charges on a $250,000 bond.
Troopers said Kennedy may be traveling in a four-door gold 2007 Suzuki Forenza with a North Carolina license plate of  either EKZ 5093 or FAA 1873.
Kennedy was last seen headed eastbound on Route 58 possibly headed to North Carolina, according to police.
Anyone who has information that could help authorities is asked to call Danville Police Department at 1-434-799-5111 or Virginia State Police at 1-800-822-4453.
Update: Virginia baby allegedly abducted by sex offender dad is believed to be in "extreme danger," police say; they've issued new photos showing the kidnapping https://t.co/GQtlfoxSGY pic.twitter.com/Mj6rq1rnkG

— KTLA (@KTLA) June 4, 2018