This is an archived article and the information in the article may be outdated. Please look at the time stamp on the story to see when it was last updated.
American gymnast Jordyn Wieber said she, too, was sexually abused by Larry Nassar during her time at USA Gymnastics, the gold medalist said in court Friday.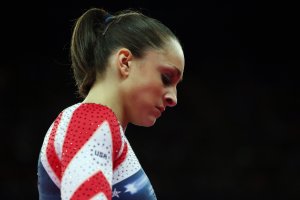 "I thought that training for the Olympics would be the hardest thing that I would ever have to do, but in fact, the hardest thing I've ever had to do is process that I'm a victim of Larry Nassar," Wieber said.
Wieber's statement makes her the fourth member of the 2012 women's gymnastics team, known as the "Fierce Five," to say Nassar abused them.
"But even though I'm a victim, I do not and will not live my life as one," she said. "I'm an Olympian. Despite being abused, I worked so hard and managed to achieve my goal."
Aly Raisman, another member of the team, is also in court Friday. A written statement from McKayla Maroney was read into court Thursday, and Gabby Douglas has also said publicly the former team doctor abused her.
Wieber's statement came on the fourth day of a remarkable weeklong sentencing for Nassar, the former USA Gymnastics and Michigan State University. He has pleaded guilty to seven counts of criminal sexual conduct in Ingham County, Michigan, and admitted to sexually assaulting and abusing young girls under the guise of providing medical treatment.
As of Friday morning, 68 victims have stared down Nassar and spoken out about how he affected their lives in tear-filled statements. In all, 105 women are expected to speak about Nassar's abuse, according to prosecutors.
Nassar also pleaded guilty to three charges in Eaton County, Michigan, and he has already been sentenced to 60 years in prison for federal child pornography charges.