This is an archived article and the information in the article may be outdated. Please look at the time stamp on the story to see when it was last updated.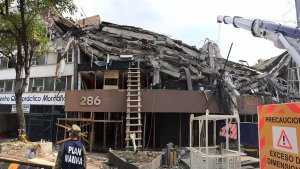 What was once a concrete office building has become a tomb.
The upper stories at the building at Avenida Alvaro Obregon 286, in the Condesa neighborhood of Mexico City, have collapsed, leaving entire floors stacked like pancakes.
Signs of a once-bustling office peek out. Potted plants. The remnants of vertical blinds. A navy blue bench cushion. Binders. A black filing cabinet smashed open. A Star Wars toy model. An electrical outlet ripped from the wall.
All of it now squeezed in a vise of heavy concrete floors failed by their pillars.
Read the full story on LATimes.com.