This is an archived article and the information in the article may be outdated. Please look at the time stamp on the story to see when it was last updated.
A terrifying road rage incident involving a gang of bikers on Manhattan's west side has gone viral on the web after video of the incident surfaced online.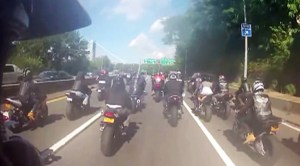 The New York City Police Department said a man driving a Range Rover with his wife and 2-year-old daughter inside Sunday struck a motorcyclist on Manhattan's West Side Highway, breaking his leg.
"It was an accident," says Lt. Karen Anderson.
The SUV driver pulled over, and the bikers surrounded his vehicle, hitting it and spiking the tires, police said. The driver pulled away, hitting three more bikers in the process, police said.
Click here to read the full story on CNN.com.