This is an archived article and the information in the article may be outdated. Please look at the time stamp on the story to see when it was last updated.
Arizona students covered under the Deferred Action for Childhood Arrivals program can no longer receive breaks on college tuition, the state's Supreme Court has ruled.
The decision means that tuition costs could almost triple for many of the more than 2,400 DACA recipients attending Arizona colleges and universities, according to university attendance and fee figures obtained by CNN. The higher costs could force some to drop out of school.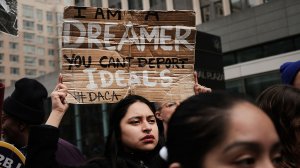 "This country has said go and do it the right way, go and get an education (so) you are able to move up … in society and help your community," said Arizona State University senior Edder Diaz Martinez at a press conference after Monday's ruling. "But the decision goes completely against that — it says we're going to put education out of your reach and you're not going to be able to move up."
Martinez, who was brought to the US from Mexico when he was 5, told CNN affiliate KPHO that his tuition could double, and "there's no way I could afford that."
Monday's unanimous decision affirms an earlier appellate court ruling that students lacking permanent legal status are not eligible for in-state tuition at Arizona colleges and universities.
DACA, an Obama-era program, allows undocumented immigrants who were brought to the US as children to receive protection from deportation and eligibility to work in the US. Members of the program are often described as Dreamers.
In-state tuition and fees for Arizona State University students, for example, costs $10,792 for the current year, according to a cost estimator on ASU's website. For out-of-state students, that number jumps to $27,371.
"Without a doubt, the Arizona Supreme Court's decision … is a setback for DACA students," said Bill Ridenour, chair of the Arizona Board of Regents. The board, he said, "has consistently called on Congress and President Trump to work together to design and provide relief for these students within the overall approach to immigration enforcement and reform."
The court said it would issue a written opinion further explaining its ruling by May 14.
Some 2,166 Dreamers are enrolled in the Maricopa County Community College District (MCCCD), a network of 10 community colleges in the Phoenix area.
"During the past five years, more than 600 DACA students earned an associate's degree or a certificate from one of our colleges and are making valuable contributions to the health of our economy," said MCCCD spokesman Matt Hasson, who called the ruling "troubling."
Ridenour said in a statement that Arizona's universities will work with DACA students to help them understand the implications for their tuition. Students who attended an Arizona high school for at least three years, graduated from an Arizona high school and are lawfully present in Arizona but not currently eligible for in-state tuition could be eligible for the nonresident rate of 150 percent of resident undergraduate tuition, he said.
State Attorney General Mark Brnovich argued that state schools are violating laws by granting in-state tuition to Dreamers.
"While people can disagree what the law should be, I hope we all can agree that the attorney general must enforce the law as it is, not as we want it to be," he said after the ruling. "As attorney general, my duty is to uphold the law and the will of more than one million voters who passed Proposition 300 in 2006."
That law provides that state-funded services and benefits, including in-state tuition and financial aid, can only be provided to students who have legal status.
At least 20 states plus the District of Columbia allow undocumented immigrants to pay in-state tuition. Several other states, including Georgia, have passed laws prohibiting undocumented students from paying in-state tuition.