This is an archived article and the information in the article may be outdated. Please look at the time stamp on the story to see when it was last updated.
A Tucson High Magnet School teacher in Arizona was selected to collaborate with NASA to come up with a new curriculum.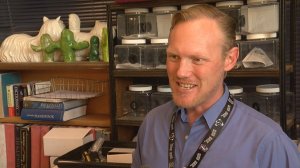 Erik Fleming is one out of 50 teachers nationwide working on new lesson plans about climate literacy, KGUN reported.
Fleming says he can use NASA satellite data to get students working with real life data sets.
"Partnering with NASA is amazing. I am kind of a nerd. I wanted to be an astronaut when I grew up," Fleming said. "This is going to be as close as you can get at my stage of life. They just have unheard of resources. Most of NASA's work is with satellite data, and we have robots exploring all of the solar systems."
He says his work will be available for millions of students and teachers nationwide on WGBH and PBS's webpages.