This is an archived article and the information in the article may be outdated. Please look at the time stamp on the story to see when it was last updated.
Attorneys for Arizona's former Maricopa County Sheriff Joe Arpaio on Monday asked the court to dismiss his case and vacate his conviction for contempt, now that he has been pardoned by President Donald Trump.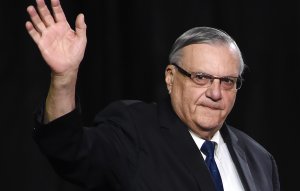 The move would essentially erase a federal district court judge's guilty verdict against Arpaio for contempt of court after he defied a federal court order to stop arresting individuals solely because they may be in the country illegally, which the court found to be unconstitutional racial profiling.
Arpaio's legal team on Monday asked the court to vacate the conviction and dismiss the case permanently before his scheduled October 5 sentencing and before the Supreme Court convenes in September. Arpaio had appealed his case to the Supreme Court.
Trump granted Arpaio a full and unconditional pardon last week in the case, effectively nullifying the court's finding.
Attorneys for Arpaio argued that because the former Maricopa County Sheriff was pardoned before he could exhaust all of his appeals, his case is rendered moot. But because the case is moot, Arpaio cannot pursue an overturning of his conviction. Thus, his only avenue is to have the court vacate it.
Arpaio faced up to six months of jail time.
President Donald Trump defended his decision to pardon Joe Arpaio on Monday, insisting the controversial Arizona lawman had been treated unfairly.
"I thought he was treated unbelievably unfairly," Trump said of Arpaio, who was convicted of criminal contempt of court related to his hard-line tactics going after undocumented immigrants.
"Sheriff Joe is a great veteran of the military, a great law enforcement person," Trump said.
He went on to list controversial clemency decisions made by past presidents, including Bill Clinton's decision to pardon Marc Rich and President Barack Obama's decision to commute to the sentence of Chelsea Manning.
Trump said he stood by his decision — and suggested he used increased television ratings amid Friday night's hurricane to publicize the move.
TV ratings, he said, were "far higher."