This is an archived article and the information in the article may be outdated. Please look at the time stamp on the story to see when it was last updated.
The creator of the world's first fully printed 3-D gun has been charged with sexual assault on a child in Texas, the Austin Police Department said Wednesday.
Cody Wilson, 30, had sex with 16-year-old girl he met on an adult dating site, Austin Police Cmdr. Troy Officer said Wednesday at a news conference. He met her at a coffee shop on Aug. 15, brought her to a hotel, and paid her $500 for sex, Officer said.
There is a warrant out for Wilson's arrest on the second-degree felony charge, which carries a maximum sentence of 20 years and a potential fine of up to $10,000, Officer said. The age of consent in Texas is 17.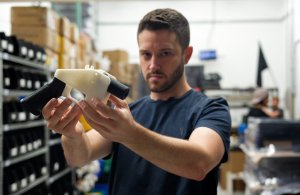 CNN reached out to Wilson for comment but he has not responded.
Wilson is not in custody and his last known location was Taipei, Taiwan, Officer said.
Wilson is the founder of Defense Distributed, a company that created blueprints of a 3-D-printed handgun made of plastic, the same material used in Lego blocks. The company is embroiled in a legal dispute that began in the Obama administration over the distribution of the blueprints.
Detectives were "able to confirm each step of the victim's story with videotape and interviews," Officer said.
"We are also working with national and international law enforcement partners to locate him and bring him to justice," Officer said.
Shortly after Wilson posted the blueprints online in 2013, the Obama administration ordered him to take them down. Wilson responded with a lawsuit in 2015, claiming First Amendment rights. The Trump administration settled the case in June, and the 3-D weapon blueprints were scheduled to be posted online Aug. 1. However, Washington state and other states successfully sued to block the release of the blueprints that day.
Austin authorities know Wilson frequently travels for business, but don't and doesn't know why he went to Taiwan, Officer said.
"We do know before he left he was informed by a friend of the victim that she had spoken to police and police were investigating him for having sex with a minor," Officer said. He did not know when Wilson was due to fly back to the U.S. but said, "His return flight date has already passed."