This is an archived article and the information in the article may be outdated. Please look at the time stamp on the story to see when it was last updated.
DENVER — Four days of rain have turned parts of Colorado into a flash-flood zone as rising waters have brought death, destruction and mudslides, forcing evacuations and shuttering schools.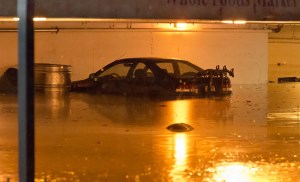 At least three deaths have been confirmed, officials said Thursday, as search-and-rescue teams were trying to reach stranded residents and motorists in Boulder and nearby mountain communities and heavy rains continued.
"The city of Boulder is just overwhelmed with water," Barbara Halpin, a spokeswoman for the Boulder Office of Emergency Management, told The Times. "I've heard from people who say they have lived here for 25 years and have never seen anything like it."
The National Weather Service warned of an "extremely dangerous and life-threatening situation" throughout the region as it posted flash-flood warnings, watches and advisories throughout the morning.
Click here to read the full story on LATimes.com.