This is an archived article and the information in the article may be outdated. Please look at the time stamp on the story to see when it was last updated.
Twin blasts Saturday in Damascus, Syria, killed at least 40 Iraqi Shiite pilgrims and wounded 120 more, according to Iraq's Foreign Ministry.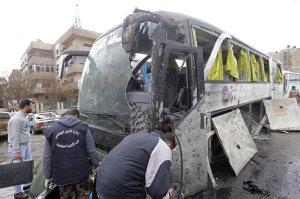 The explosions took place at the Bab al-Saghir Cemetery in the Syrian capital.
The attackers used improvised explosive devices, Iraqi Foreign Ministry spokesman Ahmed Jamal said in a statement.
The ministry said the pilgrims were visiting "holy shrines" at Bab al-Saghir, one of Syria's largest and oldest cemeteries.
No one has claimed responsibility for the bombings.
The Syrian government called the attacks "cowardly" acts of terror and asked the UN secretary-general and chairman of the UN Security Council to condemn them, the state-run Syrian Arab News Agency said.
Damascus told the United Nations that all entities participating in the Russian- backed peace talks "distance themselves from the terror organizations," SANA reported.
The government demanded that countries backing terror groups, "mainly those of Turkey, Saudi Arabia and Qatar and some Western states, be compelled to stop all forms of support to these organizations." The Syrian regime has claimed it has been fighting "terrorists" — its term for rebel fighters.
CNN reached out to the United Nations for a reaction.
Bab al-Saghir is a sacred cemetery in the southern section of the old city in Damascus where descendants and companions of the Prophet Mohammed are buried.
Shiites customarily have made pilgrimages to the site since descendants of Ali, the prophet's cousin, were buried there.
Sunni terror groups such as ISIS have attacked these Shiite shrines.
Last year, ISIS claimed responsibility for deadly attacks near the revered "Lady Zeynab" Shiite Muslim shrine on the southern outskirts of Damascus. Iraq has endured such attacks as well.
Syria has been engulfed in a civil war for six years, and it has been marked by Sunni-Shiite sectarian conflict.