This is an archived article and the information in the article may be outdated. Please look at the time stamp on the story to see when it was last updated.
At least six police officers were injured in an explosion late Wednesday when they responded to a report about a man holding his wife hostage "in a very violent domestic dispute," a North Haven, Connecticut, city official said.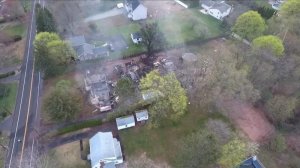 Selectman Michael Freda said he had spoken to police, who said officers were "trying to appease the situation and a back building was booby trapped and apparently that was an explosion."
Freda said the suspect had barricaded his wife in the house for three days and that she may have escaped the explosion. It is not known where the suspect is located.
Police were searching the property and went into a barn behind the house, he said, where a series of explosions took place.
The officers suffered cuts and abrasions, he said. Freda said there were no known fatalities at the moment, and the scene was stable.
CNN has reached out to the police department but has not been able to confirm Freda's information.
Yale New Haven Hospital said on its Twitter account it had received seven patients "involved in tonight's house explosion" and they were all being evaluated.
All seven are in the emergency room and under medical evaluation, Yale New Haven Hospital spokesman Mark D'Antonio told CNN.
Regional police have also responded to the site in North Haven, just outside New Haven, Freda said.
North Haven police responded to a barricaded subject in the same area earlier Wednesday, according to their Facebook page.