This is an archived article and the information in the article may be outdated. Please look at the time stamp on the story to see when it was last updated.
A 17-hour uprising at a prison in Brazil claimed the lives of at least 60 people over the weekend, state-run media reported Monday.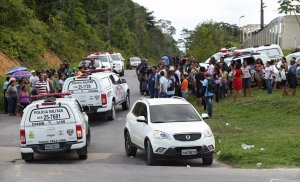 The revolt started Sunday afternoon as part of a rivalry between two criminal organizations at the Anísio Jobim Prison Complex in the city of Manaus, Agencia Brasil reported, citing Sergio Fontes, the public safety secretary for the state of Amazonas.
Among the hostages were 74 prisoners and an unknown number of prison guards, Fontes said. Bodies were thrown over the wall of the complex, and at least six people were decapitated, the news agency reported.
Authorities said they did not know how many prisoners might have escaped.
Developing story – more to come