This is an archived article and the information in the article may be outdated. Please look at the time stamp on the story to see when it was last updated.
A dying woman in eastern Australia was granted her final wish of visiting the beach one last time, according to local authorities who shared a photo of the event on Thursday.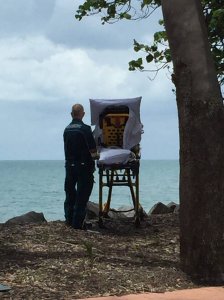 A pair of paramedics in the coastal town of Hervey Bay, about 150 miles north of Brisbane, were transporting the woman to a palliative care facility when she expressed her desire to be near the ocean before she died, the Queensland Ambulance Service said in a Facebook post that has been shared by more than 20,000 people.
The crew made an extra stop before "her last journey back to (palliative care) where she was going basically to pass away," the paramedic in the photo, Graeme Cooper, told the Australian outlet news.com.au. The second medic, Danielle Kellan, snapped the touching photo, the website reported.
"Tears were shed and the patient felt very happy," the ambulance service's Facebook post states.
The paramedic team wanted to take the woman down to the water but were unable, so they did the next best thing and brought some of the ocean water to her, Cooper told news.com.au.
"I thought if all these rocks weren't here I'd get down into my jocks and take you into the ocean … and I would have … however, I thought the next best thing was I can get some ocean and bring it to her," he said. "She actually tasted the salt water."
The ambulance service's head, Russell Bowles, later authored a second Facebook post commending Cooper and Kellan after their photo went viral.
"Being highly skilled to save lives with medical intervention and drugs is important, but equally to the service is empathy and compassion," he wrote.