This is an archived article and the information in the article may be outdated. Please look at the time stamp on the story to see when it was last updated.
His death was held up as example of the dangers faced by the Border Patrol — and cited by President Trump as another reason to build a border wall — but an autopsy report on an agent fatally injured in a west Texas culvert last fall only deepens the mystery surrounding his death.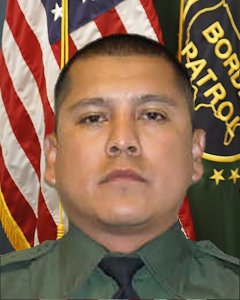 Agent Rogelio "Roger" Martinez, 36, a four-year Border Patrol veteran, died of "blunt force trauma," according to the report, but how he received his injuries remains unclear.
Martinez suffered head injuries and broken bones Nov. 18 near Interstate 10 about 130 miles east of El Paso after responding to a triggered sensor, according to the FBI, which is still investigating.
Shortly before the incident late on a Saturday night, fellow agents said they heard Martinez radio that he had found signs of activity and was checking them out. They were summoned to the 9-foot-deep culvert after a second agent who responded suffered head injuries and had to be hospitalized.
Read the full story on LATimes.com.