This is an archived article and the information in the article may be outdated. Please look at the time stamp on the story to see when it was last updated.
A babysitter pleaded guilty Thursday to physically assaulting a 1-year-old boy in Washington County and offered an apology in court.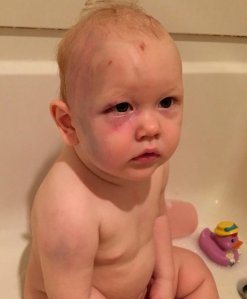 Jacob's parents had left him and his 3-year-old sister in the care of family friend Markell Hilaire for about two hours in March, KATU reported.
When the boy's parents came home, they found him crying and alone on the floor of his bedroom, while Hilaire was passed out on the couch allegedly drunk.
"My 3-year-old daughter, till this day, still talks about the stuff that happened that night," mother Alicia Quinney said.
It wasn't until the next morning that Jacob's parents realized the extent of the abuse.
"The next morning, he woke up and that's when I saw Jacob," Quinney told the TV station. "The first thing I saw was a black eye."
The parents took their son to a hospital and filed a police report.
Prosecutors waited nearly three months to pursue the case because of a wrinkle in the state law that requires prosecutors to prove beyond a reasonable doubt Jacob had suffered substantial pain and serious injury.
The law makes it more difficult to bring charges in cases involving abuse victims who cannot speak, according to The Oregonian.
The legal delays prompted Jacob's parents to post pictures of his bruised face on Facebook, sparking outrage and questions as to why someone had not faced charges.
On Thursday, Hilaire pleaded guilty to third-degree assault and apologized.
"First of all, I want to apologize for what I did," he said in court. "It does not define what I am and I was not in the right state of mind when I did what I did and I hope that Jacob is OK and he grows."
Hilaire will be sentenced to three months in jail and three years of supervised probation.
That baby-sitter in Oregon finally got arrested for smacking a 1-year-old baby https://t.co/ggnxeHSq3F pic.twitter.com/3n3TRkoN4I

— New York Daily News (@NYDailyNews) June 7, 2016