This is an archived article and the information in the article may be outdated. Please look at the time stamp on the story to see when it was last updated.
Great Scott! It's finally here: The day you can share the "Back to the Future" date on social media and not be wrong.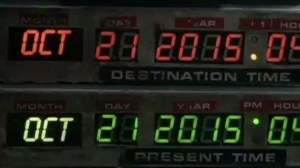 For years, Photoshop hoaxsters have been tweaking it so that Jan. 23, 2009 — no, June 27, 2012 — no, July 11, 2012 — no, Jan. 4, 2015 — is the date to which Marty McFly and Doc Brown travel in "Back to the Future Part II." (In the original "Back to the Future," they traveled backward to 1955, not forward to 2015.)
It comes up often enough to merit its own Snopes page.
Since 2013, a Tumblr account has been tricking people by automatically generating a new screenshot that shows that day's date captioned with "Today is the day Marty McFly goes to the future!" According to the notes, a couple hundred people fell for it every day.
Click here to read the full story on LATimes.com.