This is an archived article and the information in the article may be outdated. Please look at the time stamp on the story to see when it was last updated.
If you turned up at the Fyre Festival wooed by its ads — and many, many fans did — you'd think you were in for a weekend of top-notch acts playing for your entertainment, as models in bikinis paraded around and private jets and yachts ferried you to and from the beautiful Caribbean paradise. Everything any good millennial needs for a strong Instagram post.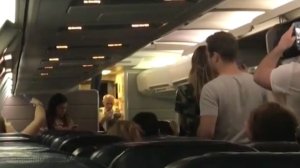 The reality, however, has been anything but.
Those who shelled out up to $12,780 for the luxury weekend in the Exumas, in the Bahamas, found themselves Thursday treated to mass disorganization, half-built tents, feral dogs and catered food that was little more than limp cheese sandwiches.
Oh, and no beer.
"We just realized it was all a complete cluster and nothing was ready, there was no organization, there was no leadership," said William Finley, from Raleigh, North Carolina.
He and three friends spent $8,000 to attend the festival. But when they arrived, they found the housing was just unmarked tents, and they struggled to figure out where their luggage had been taken.
"It was horrible, (like) summer camp," he said. "Everything about it was a sham."
Not long after arriving, Finley and many other travelers went back to the airport in an attempt to leave the festival early. But there they were greeted by crowds of similarly frustrated festival-goers with the same idea.
Ja Rule: 'NOT A SCAM'
The event, founded by rap star Ja Rule, was expected to boast a "who's who" of popular musical acts, including Blink-182, Migos, Lil Yachty, and Major Lazer.
However, given the apparent disorganization, Blink-182 canceled its appearance.
"We're not confident that we would have what we need to give you the quality of performances we always give our fans," the band said.
On its website, Fyre Festival organizers blamed the dysfunction on "circumstances out of our control," and admitted that "the physical infrastructure was not in place on time" for the event.
"Things got off to an unexpected start at day one of Fyre Festival," the festival said on Instagram. "Thank you for bearing with us as we work through the growing pains that every first year event experiences."
The festival has been postponed and organizers are working on coordinating complimentary charter flights from the island back to Miami, Fyre Festival said.
For those who planned to arrive in the coming days, their tickets will be refunded, the festival said.
Ja Rule posted a note on Twitter, saying he was "heartbroken" about the turn of events, but he defended his role.
"I wanted this to be an amazing event it was NOT A SCAM as everyone is reporting," he wrote. "I don't know how everything went so left but I'm working to make it right by making sure everyone is refunded."
"I truly apologize as this is NOT MY FAULT… but I'm taking responsibility."
Officials with the Bahamas government said ithey were "extremely disappointed" with the "total disorganization and chaos" that greeted festival travelers.
"The event organizers assured us that all measures were taken to ensure a safe and successful event but clearly they did not have the capacity to execute an event of this scale," the Bahamas said.
https://www.instagram.com/p/BTainOFB7Gr/