This is an archived article and the information in the article may be outdated. Please look at the time stamp on the story to see when it was last updated.
An African-American woman was killed and a boy was injured during a standoff near Baltimore in which, police say, the woman aimed a shotgun at officers while holding the 5-year-old in one arm.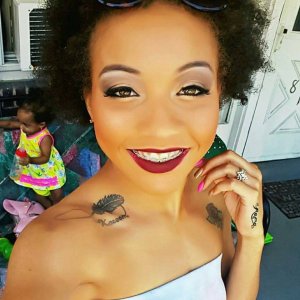 Around 9:20 Monday morning, three officers went to serve arrest warrants on a man and a woman in the Randallstown area of Baltimore County, Maryland.
The man, Kareem Courtney, 39, was wanted on an assault warrant, while the woman, Korryn Shandawn Gaines, 23, was wanted on a bench warrant for failing to appear in court to face "an array of traffic charges," police have said.
A search of Maryland court filings shows that police filed traffic and criminal charges separately against Gaines in relation to a March 11 traffic stop. An officer issued Gaines citations related to her vehicle registration, insurance and tags — offenses that would have commanded at least $560 in fines — and filed criminal charges stemming from the same traffic stop the next day, according to court records.
She was originally pulled over for driving without a license plate, Baltimore County police Chief Jim Johnson told reporters Tuesday. In place of a tag, she had a cardboard sign with a handwritten message warning government officials not to compromise her right to travel, he said.
Gaines was accused of disorderly conduct, resisting arrest, littering and failing to obey a reasonable and lawful order, all misdemeanors. A failure-to-appear warrant was filed when she did not show up to court July 13, court records show.
Upon arriving Monday to serve the warrants, officers heard the voices of an adult male, an adult female and a crying child inside the apartment.
They waited outside the door for about 10 minutes, Johnson said during a Monday press conference. Then, one officer obtained a key to the apartment.
Rest in peace to my step-cousin Korryn Gaines. I'm so sorry your baby girl & boy have to live w/o a mother. pic.twitter.com/l9T1EoPy4s

— Taylor Champ (@tchampp) August 2, 2016
Shotgun, standoff
They opened the door, which was secured with a chain, and saw Gaines with a Mossberg 12-gauge shotgun, "bringing it up to ready position, pointing it directly at the officer," Johnson said. Records show she bought the gun last year, police say.
The officers took cover in the hallway and called for tactical backup, Johnson said.
"My personnel showed great firearms restraint during this dialogue," the chief said.
Gaines vacillated between agitated and calm during the encounter, he said.
At around 4 p.m., after hours of standoff, the woman threatened officers verbally and with the weapon, according to the police account.
"If you don't leave, I'm going to kill you. I'm going to kill you," Johnson quoted Gaines as saying.
One police officer fired a single shot, to which the suspect fired back with double-ought buckshot. Officers responded with more shots and the woman was struck. The 5-year-old boy in the apartment also was hit in the arm during the crossfire.
It isn't clear who shot the boy, Johnson said. The boy's exact location during the gunfire is also unclear, he said.
Gaines was killed, and the boy is being treated for non-life threatening injuries at The Johns Hopkins Hospital in Baltimore, where he is in good condition, police say.
"For hours we pleaded with her to end this peacefully. We were concerned about the safety of the child," Johnson said.
Social media deactivated?
Responding to reporters' questions about whether police had deactivated Gaines' social media accounts during the standoff — she was posting video of the operation as her followers urged her not to follow police orders — Johnson said law enforcement has no power to deactivate an account.
Facebook has a portal for law enforcement requests, though, and police did ask the social media giant to deactivate her account "to preserve the integrity of the negotiations." Facebook complied, he said.
Her account was deactivated, but nothing was deleted, said department spokeswoman Elise Armacost, emphasizing that police wouldn't want video deleted because it could serve as evidence. Authorities are working to obtain warrants for records of social media accounts belonging to Gaines, who "clearly had anti-government views," Armacost said.
As for whether police secured footage of the standoff, Johnson said no officer involved in the direct conflict was wearing a body camera. Asked later if police contemplated bringing body cameras to the scene during the hours-long standoff, Armacost said she would have to check and get back to reporters.
The officers will be placed on administrative leave, which is standard procedure in officer-involved shootings, according to police. Their names will be released around Thursday morning, as dictated by the Baltimore County Police Department's contract with its union, the department said.
Police: Gaines filed assault charge
Courtney, the man in the apartment with Gaines, was wanted on an assault warrant filed by Gaines following a domestic violence incident in "the weeks prior" to Monday's standoff, Johnson said. Details were not immediately available, but Maryland court records show that Courtney was arrested for second-degree assault on June 28 and his case remains active.
With a 1-year-old child in tow, Courtney left the apartment through the front door during the standoff and was apprehended, Johnson said.
"We do not know why he didn't take both children," the chief said.
It was not clear if he was running or walking when he left, Armacost said. He was released from custody on his own recognizance, she said.
Police have yet to confirm the relationship of the two children to either suspect.
'Feisty' but 'respectful'
Anger against police violence remains high in the Baltimore area, which is still reeling from the death of Freddie Gray, the 25-year-old Baltimore resident who died on April 19, 2015, after suffering a spinal injury while in police custody.
Gaines' uncle Jerome Barnett, 44, told the Baltimore Sun that his niece "was feisty, but she was smart and she was respectful."
"My niece is a good person; I never knew her to be a rowdy person," Barnett told the paper.
CNN affiliate WBAL-TV reports the case is the county's third officer-involved shooting of 2016 and the first fatal officer-involved shooting.
Following the death of another African-American at the hands of police, anger spilled out on social media pages.
Under scrutiny were authorities' initial uncertainty over whether officers wore body cameras, why certain videos had disappeared from Gaines' social media accounts and why three officers had arrived at her home to arrest her for misdemeanors and traffic violations.
Many users pointed out instances in which white people, such as Aurora, Colorado, movie theater shooter James Holmes, survived police encounters despite being heavily armed.
As details continued to emerge Tuesday, the outrage towards police was accompanied by a slew of tweets questioning the indignation. How, many people asked, can people rush to defend a woman who endangered her child by threatening police with a weapon when a child was in the home?