This is an archived article and the information in the article may be outdated. Please look at the time stamp on the story to see when it was last updated.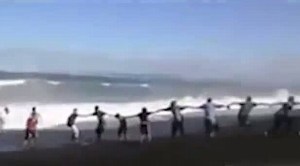 A 12-year-old New Zealand boy is alive thanks to quick thinking by-standers who came to his rescue.
Dozens of people ran toward Josh McQuoid who was being dragged out to sea after being hit by a huge wave.
The current then pulled him 500 feet down the shore.
That's when other beach-goers jumped into action, forming a human chain to reach into the dangerous surf and pull Josh to safety.