This is an archived article and the information in the article may be outdated. Please look at the time stamp on the story to see when it was last updated.
A Texas man recently said he was impressed with his beagle's loyalty after the dog jumped onto the back of an ambulance and rode about 20 miles to the hospital when his owner was transported.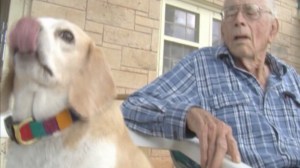 John Rector Nickleson was taken from his White Ranch home to a Fredricksburg hospital in October for high blood pressure when Buddy, a 35-pound beagle he adopted four months prior, hitched the ride.
"I'm impressed with his loyalty and his idea that he's going to help me, and it was a help, I felt a little more comfortable," Nickleson told TV station KLST.
Brian Wright, who was Nickleson's ranch hand, said he didn't know if Buddy was being loyal or simply wanted to go for a ride, but it didn't necessarily matter.
"I don't have the answer; but, there's definitely something about JR and Buddy that is very unique and heartwarming," Wright told KLST.
CNN contributed to this report. 
[facebook url="https://www.facebook.com/ktla5/posts/10152884538654614"]