This is an archived article and the information in the article may be outdated. Please look at the time stamp on the story to see when it was last updated.
Mexican actor and comedian Roberto Gómez Bolaños, best known as "Chespirito," has died, Televisa said Friday. He was 85.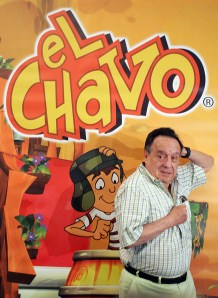 Bolaños passed away at his home in Cancún, Mexico, according to the Spanish-language network. He had lived in the coastal city, in the state of Quintana Roo, while battling health issues in recent years.
The cause of his death was not immediately announced.
On social media in May, the beloved comedian spoke about his physical status. He said that although his condition was fragile, he was "tranquil" and "happy" with his family, CNN México reported.
In 2009, Bolaños' health deteriorated after he underwent surgery and developed respiratory problems. It was then that he moved to Cancún, so that he would not have to use the oxygen tank he needed in Mexico City.
Bolanos was renowned for his signature character on the long-running TV series "El Chavo del Ocho" ("The Boy From Number Eight") in which he played a youngster living in a neighborhood of the Mexican capital.
The first episode of the series, which brought the actor international recognition, aired in June 1971.
"The story of Chespirito is the story of Mexican television," a CNN México reporter said.
Bolaños' other well-known roles included El Chapulín Colorado ("The Red Grasshopper"), El Chanfle and Chompiras.
After the comedian's death was announced Friday, fans took to social media in droves to express their sadness.
"I profoundly lament the death of Sir Roberto Gómez Bolaños, 'Chespirito.' My condolences to his family," Mexican President Enrique Peña Nieto said on Twitter. "Mexico has lost an icon whose work transcended generations and borders."
Another admirer tweeted that Bolaños "was our Robin Williams" and a "national folk hero" in his native country.
"My parents, I, and now my daughter grew watching his show," Marco Mendoza said.
A funeral Mass for the actor will be held Sunday morning at Aztec Stadium in Mexico City, Univision reported. The soccer venue has a seating capacity of 104,000.
CNN en Español contributed to this report.
Correction: An earlier version of this report stated that "Chespirito" was a role played by Bolaños. It was the actor's nickname. The article has been updated to reflect the change.
Lamento profundamente el fallecimiento de Don Roberto Gómez Bolaños,"Chespirito". Mis condolencias a su familia.

— Enrique Peña Nieto (@EPN) November 28, 2014
[protected-iframe id="7364bbd8c0b1d08331b08c0ce2c783a8-41641936-52137988″ info="http://player.ooyala.com/player.js?height=375&deepLinkEmbedCode=ZyNnF5cTprCmRU3urjYk0Cr-ITFgV6aP&width=625&video_pcode=d5OHc6MVLQYVl6ElN9iusefh_Cnw&embedCode=ZyNnF5cTprCmRU3urjYk0Cr-ITFgV6aP" ]