This is an archived article and the information in the article may be outdated. Please look at the time stamp on the story to see when it was last updated.
Americans are getting older. That's an opportunity for Best Buy.
In August, Best Buy announced it would buy GreatCall for $800 million. GreatCall makes Jitterbug cell phones with big buttons and bright screens designed for senior citizens, as well as medical alert devices that can detect falls and summon help.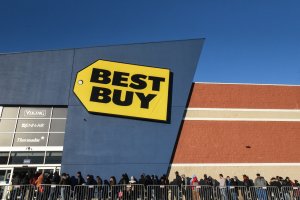 Best Buy (BBY) may not seem like the first place to find an over-70 crowd. But buying GreatCall allows Best Buy to expand its customer base overnight.
If it can attract an older clientele, Best Buy increases its chances of becoming the go-to store for aging Americans and their caregivers. It can bring them in for Jitterbugs and medical alert gadgets and send them home with TVs and Echoes.
Analysts expect Best Buy to feature GreatCall products prominently at its showrooms, and Geek Squad agents will probably recommend them to customers.
Helping Grandma live independently
GreatCall says it has close to 1 million subscribers and $300 million in annual sales. The deal, expected to clear in the next few months, will be the largest in Best Buy's 52-year-history.
The company's products are equipped with medicine reminders, fitness trackers, health tips, and personal operators for assistance with daily tasks. And there is a separate app for family members and caregivers that notifies them during an emergency.
Health and eldercare are potentially massive markets for Best Buy to tap. Around 50 million Americans are over 65. That number is expected to double within the next 20 years as Baby Boomers retire.
That's one of the reasons why Best Buy appointed Cindy Kent, a veteran health care executive, to its board of directors last week.
Many people want to stay in their homes as they enter old age and live independently for as long as possible. Tech tools — made by GreatCall and sold at Best Buy — can help.
Best Buy wants to carve out a niche as a retail leader in digital health, and the deal fits into its growth strategy to offer shoppers a menu of consultative solutions for their tech needs.
"We think it's a completely white space that is waiting to be captured," Best Buy chief executive Hubert Joly said last year about his company's opportunity to bring health tech to older people.
Apple sees the same trends. The screen on the new Apple Watch Series 4 is 30% larger than the last version. The watch recognizes when a wearer falls and automatically sends a notification to an emergency contact.
Best Buy is selling services
Best Buy is searching for ways to "provide key services that can't be disrupted in a cardboard box," said Sam Glick, a partner in Oliver Wyman's health and life sciences practice.
Joly's first acquisition during his six-year run falls in line with Best Buy's two-year growth strategy, "Building the New Blue." As part of its new plan, Best Buy has rolled out Assured Living, a home safety monitoring system that allows caregivers to closely track a person's day.
Through Assured Living's wireless bed, furniture, and door sensors, caretakers can monitor activity and receive alerts about any issues — falls, lack of activity, or a parent forgetting to take medication. Best Buy says the program is a cheaper option than assisted living.
"Across both Assured Living and GreatCall, we believe there's an exciting opportunity in this idea of monitoring the behaviors and health of frail seniors in their homes," Joly told analysts in August.
Acquiring GreatCall also separates Best Buy from rivals in an untapped, and increasingly competitive, connected home market.
Best Buy believes greater access to at-home monitoring will help it resist Amazon's aggressive steps.
Amazon bought Ring, the doorbell camera company, and has partnered with Lennar on Alexa-powered homes. Last month, it unveiled Alexa-controlled microwaves and wall clocks.
"Best Buy wants to get as embedded in your home as possible," said Charlie O'Shea, lead retail analyst at Moody's. "The more stuff they can put in your house, the more of a relationship they have with you. They're going to be your first call whenever you need anything. That's the position you want to be in."