This is an archived article and the information in the article may be outdated. Please look at the time stamp on the story to see when it was last updated.
A bus driver who was shot multiple times by a group of young men survived the attack, police said, because of the Bible in his pocket.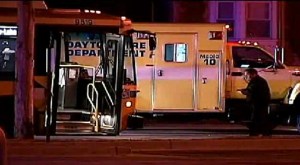 Rickey Waggoner, 49, was shot point-blank in the chest twice and a third time in his leg while standing next to his bus on a street in Dayton, Ohio, police said.
According to police, the two bullets aimed at Waggoner's chest were stopped by the New Testament Bible he carried in his breast pocket.
Waggoner had pulled his bus onto the side of the road after he began having engine trouble, police said.
Police said the attack was likely part of a gang initiation, WHIO reported.
CNN contributed to this report.