This is an archived article and the information in the article may be outdated. Please look at the time stamp on the story to see when it was last updated.
The family of a gravely ill boy who asked for cards and stickers for his 9th birthday has been overwhelmed by the outpouring of support their son has received from thousands of total strangers.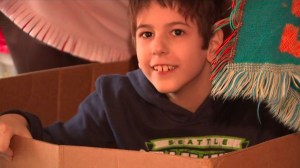 Bubby Everson is battling a number of health issues, including autism, cerebral palsy, epilepsy, deafness and scoliosis, so Bubby's parents — not knowing how many birthdays he may have left — shared their son's wish to receive lots mail in hopes of making the most of his upcoming birthday.
"What started out as us hoping some people would send some cards has turned into packages, custom paintings," Thomas Everson, Bubby's dad told local television station KCPQ, who first shared the families story.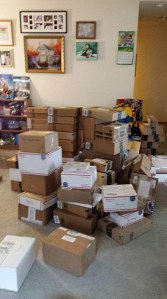 Soon the family was sorting through nearly 14,000 letters and 3,000 packages, and Bubby's official birthday isn't even until Wednesday, the station reported.
"We've got so many stickers now that we're going to be able to wallpaper our entire house with stickers," Thomas Everson said.
Although there are thousands of letters, Bubby intends on going through every card and peeling every sticker, KCPQ reported.
Some of the cards are coming from places like China, Australia and Cuba, according to the television station.
"We feel absolutely blessed. The amount of love from strangers is overwhelming and it fills our heart," Thomas Everson said.
If you want to send Bubby a card, it is not too late:
Bubby Everson
PO Box 1142
Graham, Washington, 98338.