This is an archived article and the information in the article may be outdated. Please look at the time stamp on the story to see when it was last updated.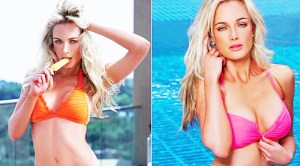 PRETORIA, SOUTH AFRICA – A celebrity TV reality show featuring Reeva Steenkamp — the model allegedly murdered by Paralympic athlete Oscar Pistorius — is airing Saturday night (Feb. 16) in South Africa.
Pistorius, given the nickname 'Blade Runner' after he competed in last year's Olympics on special carbon fiber blades attached to his legs, is accused of shooting Steenkamp repeatedly at his home.
Pistorius's legs had been amputated below the knees when he was a toddler, because of a bone defect.
South Africa's broadcasting company confirmed that the fifth series of 'Tropika Island of Treasure' will begin airing tonight as scheduled, and will include Steenkamp on the show.
The show's executive producer said while there had been much deliberation about whether or not to include the beautiful model in the show, the decision was made to include her so that they could show her 'light and laughter' to those who did not know her.
Meanwhile Pistorius, the boyfriend accused in her killing, will appear at a bail hearing on Tuesday (Feb. 19).