This is an archived article and the information in the article may be outdated. Please look at the time stamp on the story to see when it was last updated.
At least 35 people died in a boat accident on Lake Victoria in Uganda on Saturday, according to the Ugandan Police Force.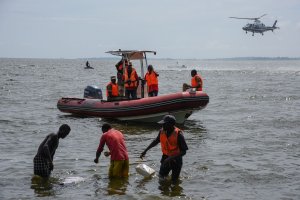 Police said the boat was "in poor mechanical shape" and was overloaded with passengers on a lake cruise when it capsized.
A marine unit has rescued 26 people, and searches are ongoing to find more passengers. More than 50 people are unaccounted for, said Army Lt. Col. Deo Akiiki Asimwe.
Authorities said they expect the death toll to rise.
Ugandan President Yoweri Museveni offered condolences to the victims, adding that "according to preliminary information from the security services" the boat was "private, unregistered, unlicensed and maybe uninsured."
Somalia's President also tweeted about the incident, saying the people of Somalia "stand by Uganda [in] this trying moment of grief."
Ugandan police spokesman Patrick Onyango said there was bad weather at the time of the accident.