This is an archived article and the information in the article may be outdated. Please look at the time stamp on the story to see when it was last updated.
A small boat believed to have traveled across the Pacific Ocean after the 2011 Japanese earthquake and tsunami washed ashore in Washington state this week, according to authorities.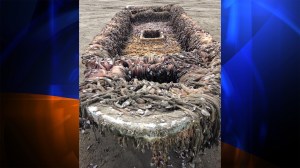 The boat, which appeared to be covered with unusual-looking barnacles, was discovered Monday morning in Ocean Shores (map), according to police in the small coastal city about 90 miles west-southwest of Seattle.
The boat was turned over to the U.S. Coast Guard and Grays Harbor County authorities, an Ocean Shores Police Department sergeant told Seattle television station KCPQ.
The vessel was expected to be removed from the beach on Tuesday.
The state Department of Ecology planned to inspect the boat out of concern it was harboring invasive species of marine life, Charles Wallace, deputy director of Grays Harbor County Emergency Management, told the station.
There appeared to be Asian-language writing on the boat, Wallace said.
Officials were expected to contact the Japanese Consulate in Seattle for help identifying the boat, KCPQ reported.
A similar boat was found last week, but it did not have any identifying markers, Linda Kent of the Department of Ecology told KCPQ.
Such vessels and other tsunami debris have washed ashore in California as well.
This story was originally reported by KCPQ.