This is an archived article and the information in the article may be outdated. Please look at the time stamp on the story to see when it was last updated.
Six years after Whitney Houston's death, her ex-husband says he doesn't think drugs played a part in the superstar's accidental drowning, which a coroner ruled also owed in part to the effects of "cocaine use."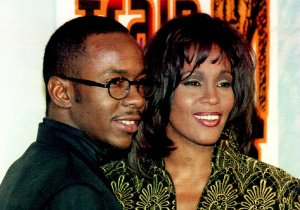 "I don't think (Whitney) died from drugs," singer Bobby Brown told Rolling Stone in an interview published Wednesday. "She was really working hard on herself to try to be a sober person."
Brown, who was married to Houston from 1992 to 2007, rejected the notion that drugs were a factor in her death, even after his wife and manager Alicia Etheredge-Brown noted during the interview that there were drugs in Houston's system when she died in 2012 in a Los Angeles hotel bathtub.
Asked what he believes led to Houston's death, Brown said: "Just being brokenhearted."
Toxicology testing measured 0.58 micrograms of cocaine per milliliter of blood drawn from a vein in Houston's leg during the autopsy, the Los Angeles County coroner's office said in 2012.
Along with cocaine, toxicology tests found marijuana, the anti-anxiety drug Xanax, the muscle relaxant Flexeril and the allergy medicine Benadryl in Houston's body when she died, a coroner's report stated, concluding the prescription drugs "did not contribute to the death."
Daughter's death remains raw
Brown also revealed he's still waiting for justice in the death of his daughter with Houston, Bobbi Kristina Brown, who died in 2015 months after being found unresponsive in a bathtub at her Atlanta home.
An autopsy showed that drug intoxication and immersion led to the pneumonia and brain damage that killed the 22-year-old.
Bobbi Kristina Brown's boyfriend at the time, Nick Gordon, was found legally responsible for her death but was not charged with a crime.
Bobby Brown expressed frustration that Gordon is "still walking around free," he told Rolling Stone.
'They still love me'
Brown, who is in the midst of a bit of a career resurgence after struggling with substance abuse and serving time in jail, said he stayed sober in recent years for one simple reason.
"The love for my kids," he told Rolling Stone. "The love that they give me. My older kids know everything about me, and they still love me."
In addition to working on new music with superproducers Teddy Riley and Kenneth "Babyface" Edmonds, Brown is producing BET's "Bobby Brown Story," a follow-up to the network's successful 2017 miniseries, "The New Edition Story."