This is an archived article and the information in the article may be outdated. Please look at the time stamp on the story to see when it was last updated.
A South Carolina man who is accused of kidnapping a woman and chaining her up for two months has confessed to a 2003 quadruple homicide and may have killed three others, Spartanburg County Sheriff Chuck Wright told reporters Saturday night.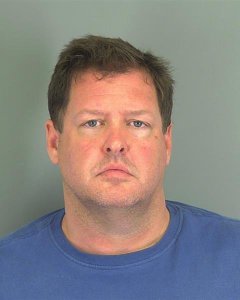 Officials discovered the body of a man Friday on the farm of Todd Kohlhepp, and Saturday they identified him as Charles Carver, the boyfriend of the woman, Kala Brown, found chained on the property.
Kohlhepp led investigators Saturday to where he said a second and third body are buried on his property, Wright said. The bodies have not been recovered yet, the sheriff said.
Friday, as the suspect appeared at a bail hearing on a kidnapping charge in Brown's case, a solicitor told the judge that Brown has said she saw Kohlhepp shoot her boyfriend.
Wright said Kohlhepp, 45, also told detectives details of the 2003 quadruple homicide that only the killer would have known. He was charged Saturday with four counts of murder, according to Spartanburg County, South Carolina, court records.
The victims — Beverly Guy, Scott Ponder, Brian Lucas and Chris Sherbert — were found fatally shot inside Superbike Motorsports in Chesnee, South Carolina, on Nov. 6, 2003, CNN-affiliate WYFF News 4 reported.
Melissa Ponder, the wife of one victim, told WYFF: "I'm sad, relieved, in shock."
A bond hearing was scheduled for 11 a.m. on Sunday, WYFF reported.
Kohlhepp could also be linked to up to three other homicides, Spartanburg County Sheriff Chuck Wright told reporters Saturday night.
Brown, 30, and Carver, 32, went missing August 31. Authorities said Brown and Kohlhepp knew each other and that a social media post indicated she was to meet him at the farm on the day she and Carver disappeared.
Carver was shot more than once in the upper extremities, Spartanburg County Coroner Rusty Clevenger told reporters Saturday night. An anthropologist is helping to determine how long the body was buried, the coroner said.
"We talked with the family and they're obviously heartbroken," Sheriff Chuck Wright said.
Authorities on Thursday found Brown chained by the ankle and neck inside a shipping container on the 95-acre farm in Woodruff, near Spartanburg.
Brown also told investigators that she believed as many as four people had been killed on the property.
Kohlhepp, who was facing one charge of kidnapping, has yet to enter a plea and doesn't have an attorney. The judge sent the bail matter to a circuit court, where other charges will now be added.
Kohlhepp is a registered sex offender who's been working as a real estate agent in the area. He bought the farm in May 2014 for $305,000.
He spent 15 years in prison for a 1987 kidnapping.