This is an archived article and the information in the article may be outdated. Please look at the time stamp on the story to see when it was last updated.
The body of the 23-year-old Oregon man who fell into a hot spring in Yellowstone National Park on Tuesday will not be recovered.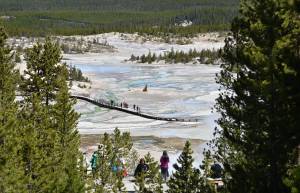 "Recovery efforts have been terminated in part because we have not been able to locate any remains, unfortunately," Morgan Warthin, a spokeswoman for the park, told EastIdahoNews.com.
Earlier Wednesday, park officials released the name of a man who fell into a hot spring at the Norris Geyser Basin.
Colin Nathaniel Scott, of Portland, was with his sister, Sable Scott, when he slipped about 225 yards off the boardwalk near Pork Chop Geyser.
"Using extreme caution given the hazards of the thermal area, rangers confirmed Scott's death Tuesday evening," a news release from the park stated.
The Norris Geyser Basin is open, but there will be temporary closures in the area until the investigation is complete.
The hot spring where Scott fell is the site of the highest temperature ever recorded in a geothermal area of the park, once reaching 459 degrees Fahrenheit in a drill hole 1,087 feet below the surface, according to the park's website.
The death is the second thermal-related incident to occur in the park during the 2016 season. Last Saturday, a father and son suffered burns in the Upper Geyser Basin after walking off the designated trail in the thermal area, park officials said.
"We extend our sympathy to the Scott family," said Yellowstone Superintendent Dan Wenk. "This tragic event must remind all of us to follow the regulations and stay on boardwalks when visiting Yellowstone's geyser basins."
For information on safety around thermal features, visit go.nps.gov/yellsafety.