This is an archived article and the information in the article may be outdated. Please look at the time stamp on the story to see when it was last updated.
A young dog lover did not want a party or the latest gadget for his 9th birthday. Instead, he made a selfless wish: to help save abused, neglected and abandoned dogs.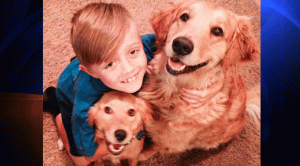 Ethan Katz is a dog lover whose family adopted two rescue dogs, "Brooklyn" and "Fly,"  from a Washington D.C.-based non-profit called "City Dogs Rescue."
The boy, who turned 9 on May 29, loves his pets so much he decided he wanted to  make sure other dogs also had a chance at finding a good, loving home.
In order to help make his birthday wish come true, Ethan designed T-shirts and the rescue organization has created a page where he can sell them online.
"This year for my birthday I want to raise money for my favorite rescue organization- City Dogs Rescue," Ethan said on the fundraising page.
In just two months, Ethan has sold more than 280 shirts and has raised more than $5,000, which is enough to save more than 10 dogs from being euthanized, according to a blog post on the non-profit's website.
Some of the dogs he's saved so far are "May," "Willie" and "Chi Chi," according to the fundraising page.
Ethan's goal is to sell 500 shirts, and he has 27 more days to meet it, according to the page.
Click here to buy Ethan's T-shirt or to make a donation.