This is an archived article and the information in the article may be outdated. Please look at the time stamp on the story to see when it was last updated.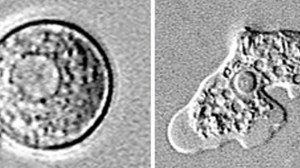 Tests of a Louisiana parish's water supply confirmed the presence of a rare amoeba blamed for last month's death of a 12-year-old boy.
The state's Department of Health & Hospitals said Thursday the Naegleria fowleri amoeba, which causes a generally fatal brain infection, was found in tests of St. Bernard Parish water conducted by the federal Centers for Disease Control.
The water is safe to drink, state officials said, although they continued to caution against getting water in the nose, the route the amoeba takes.
The parish water supply came under suspicion because its chlorine levels were low.   Chlorine kills the amoeba, said state Assistant Health Secretary J.T. Lane.
Click here to read the full story at CNN.com.