This is an archived article and the information in the article may be outdated. Please look at the time stamp on the story to see when it was last updated.
Actor Patrick Stewart said in an interview this week that he wants to become a US citizen so he can "fight" Donald Trump's presidency.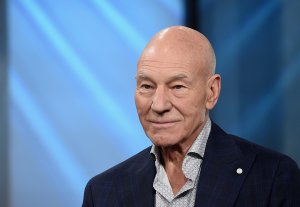 The actor made the comments when he was asked on ABC's "The View" about a tweet he wrote last month: "Had the worst sleep of my life last night. But I was sleeping less than 300 yards from where Donald Trump sleeps. Could there be a connection?"
"I resisted social media for years and now I'm pretty fully involved," he told the hosts Thursday. "The first night I was in Washington, I had the worst night sleep for years and years and years. And it was only in the morning when I got up and drew the curtain that I realized what it might be. But it was a fairly innocent tweet. I did not directly insult your President."
"He's not mine," co-host Whoopi Goldberg responded, drawing laughter and claps from the audience.
"He's not mine, either," Stewart said. "You know, we have our own problems. We have Brexit. But I'm not a (US) citizen. However, there is, maybe it's the only good thing as the result of this election, I am now applying for citizenship. Because I want to be an American, too."
The "Star Trek" and "X-Men" star continued: "Because all of my friends in Washington said there's only one thing you can do: fight, fight, oppose, oppose. But I can't do it because I'm not a citizen."