This is an archived article and the information in the article may be outdated. Please look at the time stamp on the story to see when it was last updated.
The Brooklyn grocery store where Biggie Smalls worked honored the 20th anniversary of his death Thursday with limited-edition grocery bags.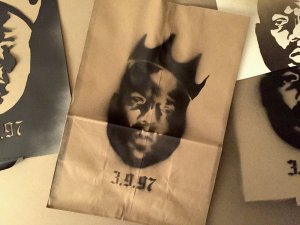 "As a tribute, a limited edition of custom-stenciled grocery bags were made for the family-owned grocery store to remember his legacy," the Biggie Bag's project website says.
The "Biggie Bags" feature a stencil of Christopher "The Notorious B.I.G." Wallace's face with a crown and the date of his death.
Wallace bagged groceries at the Met Supermarket at 991 Fulton St. while growing up.
The bags were only available Thursday and were limited to one bag per person. No purchase was required to get a bag.
The iconic rapper was shot to death leaving a Los Angeles night club on March 9, 1997. He was 24.
His death came six months after rapper Tupac Shakur was gunned down in Las Vegas.
Shakur and Wallace were the symbols of the East Coast-West Coast rivalry in the hip hop community. Their slayings remain unsolved.