This is an archived article and the information in the article may be outdated. Please look at the time stamp on the story to see when it was last updated.
An Ohio teenager with autism thought he was taking the ALS ice bucket challenge, but instead of water, a group of juveniles doused the 15-year-old boy with a mix of bodily fluids and cigarette butts,  family members said Wednesday.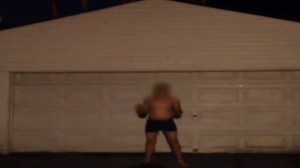 The incident, which was recorded on the boy's cell phone, was released to KTLA sister station WJW-TV. The teen's family chose to share the video in an effort to make other parents aware of bullying, the Cleveland Fox affiliate reported.
In the clip, the shirtless teen is standing in front of a garage when from above comes a bucketful of liquid, which according to the boy's family, contained feces, urine, spit and cigarette butts.
"Once we found out about it, we were just horrified," the boy's mother told Fox 8. "I want these kids held accountable for what they did to him, and that they targeted somebody who just didn't really understand what was going on."
A police investigation is underway and criminal charges could be filed, according to Bay Village Police Department Det. Kevin Krolkosky.
"Obviously, if possible, we do want to hold those individuals accountable for their actions," Krolkosky said.
The teen's mother and father hoped the release of the video will inspire other parents to talk about bullying with their own children.
"The bucket challenge is supposed to be raising awareness for this disease and now they've turned it into a sick joke," the victim's mom said. "I just can't understand why kids would do something this cruel."