This is an archived article and the information in the article may be outdated. Please look at the time stamp on the story to see when it was last updated.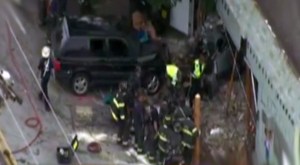 KANSAS CITY, Mo. (KTLA) — Three children were seriously injured Tuesday when an SUV plowed into the back of a parked Cadillac sending it through the front wall of a day care center.
The crash happen around 1 p.m. at the Christian Academy Child Care facility in central Kansas City.
There were 40 children as well as a number of teachers and other adults inside the building at the time of the crash, Kansas City police Capt. Tye Grant said.
The injured children were taken to the hospital with serious but non-life-threatening injuries, city communications director Danny Rotert said.
The driver of the SUV was also hospitalized with minor injuries.
There was no information on what charges the driver might face.