This is an archived article and the information in the article may be outdated. Please look at the time stamp on the story to see when it was last updated.
WASHINGTON — President Barack Obama recognized a soldier's struggles on and off the battlefield when he presented the Medal of Honor on Monday.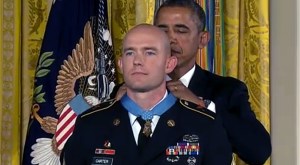 Army Staff Sgt. Ty Carter received the top combat valor medal for demonstrating "the urge to serve others at whatever cost," Obama said, when his combat station in Afghanistan came under attack.
The October 2009 assault on Combat Outpost Keating by some 300 Taliban fighters left eight Americans dead, many wounded and "almost everyone was left with deep invisible wounds to their hearts and to their minds," Carter said after the White House ceremony.
"Only those closest to me can see the scars that come from seeing good men take their last breath," he said.
Click here to read the full story at CNN.com.