This is an archived article and the information in the article may be outdated. Please look at the time stamp on the story to see when it was last updated.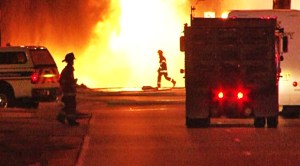 BIBB COUNTY , GEORGIA – An inferno created by a tanker truck fire lit up the night in central Georgia's Bibb County.
A car collided with the fuel tanker on the I-475 Freeway on Friday night (Mar. 1).
Witnesses in the area at the time describe hearing what they say sounded like small explosions.
The truck driver told police he had just filled up the tanker right before the accident.
An investigation is underway because, according to police, the driver of the car said he intentionally crashed into the tanker.