This is an archived article and the information in the article may be outdated. Please look at the time stamp on the story to see when it was last updated.
Hurricane Harvey hit South Texas head-on late Friday, with the Category 4 storm unleashing torrential rain and blasting winds, and leaving thousands without power.
The powerful eye wall of Harvey reached land by 8 p.m. PT between Port Aransas and Port O'Connor, Texas, with winds of 130 mph, the National Hurricane Center said.
It is the first Category 4 hurricane to make landfall in the United States since Hurricane Charley in 2004.
Millions of residents along the south Texas coast saw hurricane-force winds that knocked down trees, power poles and signs.
First responders are yet to assess the impact that the extremely powerful hurricane has caused over Texas in the first hours since landfall but forecasters have said it will be devastating and leave areas "uninhabitable for weeks or months."
Harvey has the "highest potential to kill the most amount of people and cause the most amount of damage," said Brock Long, director of the Federal Emergency Management Agency.
As Harvey deluges Texas, coastal cities could see 13 feet of storm surge and as much as 40 inches of rain by Wednesday.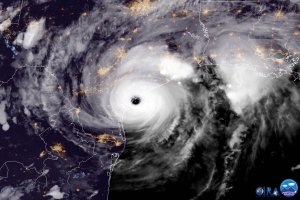 Just the beginning
In Rockport, firefighters were "hunkered down" in the fire station as the eye of the storm was over them.
Roy Laird, assistant chief with the Rockport Volunteer Fire Department, told CNN they were anxious to get out and check the city for damage but it could be hours before they will be able to safely leave the station.
"We had probably 140 mph winds earlier. It was howling," Laird added.
Joey Walker, 25, works with the Galveston Island Beach Patrol and is riding out the storm from a house on Galveston Island. He posted video of near-white out conditions overlooking Stewart Beach.
Houston Mayor Sylvester Turner said anyone not leaving should plan to stay off the roads once the storm starts.
"People need to know, this is not a one-, two-day event and done," Turner said.
The storm will stall and dump rain on South Texas and parts of Louisiana into the middle of next week, forecasters predicted.
Latest developments
— There have been reports of structural and building problems in Rockport, Aransas Pass, and Port Aransas, Texas, said Tom Beal, a meteorologist with National Weather Service office in Corpus Christi. He anticipated that the hurricane would clear that area sometime about 4 a.m. ET Saturday.
— The hurricane center said a tide gauge in Port Lavaca, Texas reported storm surge of 5.6 feet.
— At least 104,000 customers of the Electric Reliability Council of Texas (ERCOT) electric system lost power just at Harvey made landfall Friday, the corporation said on Twitter.
— Rockport, Texas, officials are advising residents who refuse to evacuate to write their names and Social Security number on their forearm, Mayor Pro Tem Patrick Rios told CNN. Rios said it will "help out first responders should they find a body."
— President Donald Trump, who will visit the area next week, has signed a disaster declaration for the state.