This is an archived article and the information in the article may be outdated. Please look at the time stamp on the story to see when it was last updated.
A DNA sample taken from the exhumed remains of former priest A. Joseph Maskell does not match the DNA from the murder scene of Sister Catherine Ann Cesnik, according to Baltimore County Police.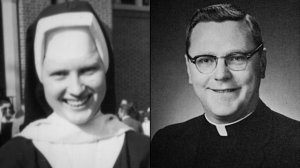 Police announced on Wednesday that they had received results from Bode Cellmark Forensics laboratory in Lorton, Virginia, excluding Maskell as a contributor to a DNA profile developed from evidence taken in 1970 from the scene in Maryland where the decomposed body of Cesnik was found by a father and son out hunting. The 26-year-old nun had been missing for nearly two months.
County police opened Maskell's grave on February 28, after securing an order from the state's attorney, according to Elise Armacost, director of public affairs for Baltimore County Police.
Baltimore County Police have compared the DNA of several other people as part of their investigation into the never-closed case, according to Armacost, but those tests did not match the DNA profile from 1970.
The DNA profile from the evidence was also placed into the FBI's Combined DNA Index System, but there were no matches with any profile from the national database.
"The negative results from the Maskell DNA profile comparison mean that [the] best hope for solving the case now lies with people who are still alive and willing to come forward with conclusive information about the murder," police said Wednesday in a news release.
Maskell was a priest accused in the 1990s of sexually assaulting young women. Cesnik was a teacher and nun who, according to an attorney, was a confidant of young women who had been assaulted by the priest.
Police have also looked into whether Cesnik's death is related to the deaths of three other young women in the Baltimore area around the same time.