This is an archived article and the information in the article may be outdated. Please look at the time stamp on the story to see when it was last updated.
[ooyala code="F4bDFwcjrTpWIX8LQB0D9ZsmYvqMtmug" player_id="5303db80d4274ad2b2ceadc3cffff2ae"]
Video taken by a news photographer at the site of a deadly 120-vehicle pileup on a snow-covered interstate highway in Michigan Friday captured a fireworks truck exploding as a result of the crash.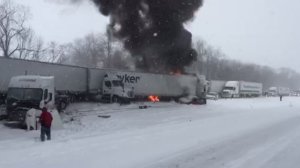 Smoke and fire could be seen coming from the burning truck for nearly a minute.
People living within a 1-mile radius of the crash on Interstate 94  in Kalamazoo County were temporarily asked to take shelter as a precaution because another semi-truck carrying hazardous material was also involved in the wreck, according to KTLA sister station WXMI.
The crash occurred near the town of Climax, the Grand Rapids-based television station reported.
The county sheriff told a reporter for the station that the portion of the interstate where the crash occurred was in a "wind tunnel." At least 50 to 60 semi-trucks were involved in the pileup, the sheriff told another WXMI reporter.
Emergency crews on the scene confirmed that at least one person was killed in the crash, which forced the snowy highway to close in both directions. At least 20 people were injured, WXMI reported Friday afternoon.
The forecast for the area of the crash showed blowing snow and a high of 9 degrees, with wind chill as low as -10 degrees, according to the National Weather Service, which warned that travel was hazardous in Michigan.
KTLA's Melissa Pamer contributed to this article.