This is an archived article and the information in the article may be outdated. Please look at the time stamp on the story to see when it was last updated.
Dashcam video released Tuesday shows a big rig skidded off the road and struck an Ohio police officer, who somehow managed to survive the crash.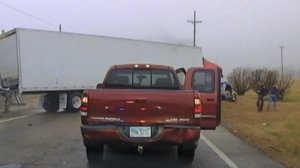 The incident took place on Jan. 8 in Eaton, Ohio, as Capt. Brad Moore of the Preble County Sheriff's Office was directing traffic following a minor wreck on U.S. 35, CNN reported.
Moore was waving on the big rig, which had come to a stop on the train tracks, when the track arms stared to come down.
The driver of the big rig was penned in and unable to get out of the way of the oncoming train, which struck the truck and sent it careening out of control.
"I remember seeing the train hit the trailer and then I felt the impact of the semi,"  Moore said. "my left hand and arm got caught up in the right front tire and that's kind of what -- you see me barrel rolling, shot me out."
Medics surrounded Moore within minutes and rushed him to the hospital, where he was left with two gashes on his head, a broken left hand and 25 stitches.
"It's a miracle I mean it really is. I mean it's very ... makes you think a lot. It's one of those that a foot this way, a foot that way, no bush, it could have been really bad. So I'm very lucky. Very fortunate," Moore said.
Moore said he was hoping to get a doctor's approval to return to light duty work next week, CNN reported.