This is an archived article and the information in the article may be outdated. Please look at the time stamp on the story to see when it was last updated.
Human remains found in the western Mexican state of Michoacán have been identified as journalist Salvador Adame, who was missing for more than a month, a state prosecutor said Monday.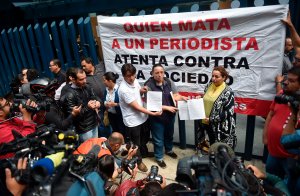 The burned remains were found in the city of Nueva Italia, where Adame worked as the general director of Canal 6 Media TV, state prosecutor José Godoy said.
Adame disappeared May 18, when his family reported him being kidnapped by an armed group.
The Committee to Protect Journalists had a report on Adame in April 2016, saying local police detained him and his wife Frida Urtiz, who was also co-owner of the station, while the two covered a sit-in demonstration to protest the cancellation of a government-funded social project.
Adame told the CPJ that it came as a surprise to him.
"We cover social issues and sometimes annoy the authorities by doing so, but I have never had any problem with them," he told CPJ.
Mexico is the deadliest country for journalists so far in 2017, according to the CPJ, which says four journalists have been killed there "in direct retaliation for their work this year."