This is an archived article and the information in the article may be outdated. Please look at the time stamp on the story to see when it was last updated.
Things don't get much more Boston than the St. Patrick's Day parade that goes through south Boston every year.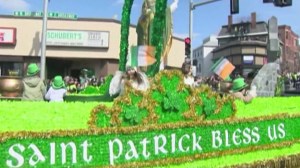 But citing an exclusion of gay participants, the city's mayor decided not to join one of the famously Irish city's most famously Irish events on Sunday.
Heineken and Sam Adams Boycott St. Paddy's Day Parades
Boston Mayor Marty Walsh, whose parents were Irish immigrants, was keeping a promise not to attend after he failed to convince organizers to allow a gay veterans group to participate in the march.
"As mayor of the city of Boston, I have to do my best to ensure that all Bostonians are free to participate fully in the civic life of our city," Walsh said in a statement to local media. "Unfortunately, this year, the parties were not able to come to an understanding that would have made that possible."
Click here to read the full story on LATimes.com.