This is an archived article and the information in the article may be outdated. Please look at the time stamp on the story to see when it was last updated.
TEL AVIV, Israel — Security footage shows city workers drawing the lines for a handicapped space around a legally parked vehicle.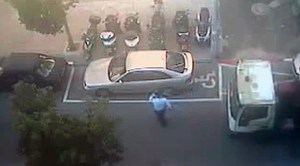 Within minutes a tow truck arrives and the driver returns to an empty spot.
A city representative accused the driver of lying, then and said she owed $360 in fees.
The driver did some investigating of her own and building with a security camera aimed directly at the new parking spot.
Once the video went viral, the municipality canceled the ticket.
And the mayor of Tel Aviv even apologized, promising it would never happen again.