This is an archived article and the information in the article may be outdated. Please look at the time stamp on the story to see when it was last updated.
CLEVELAND, Ohio (KTLA) — Kidnapping victims Amanda Berry, Gina DeJesus and Michelle Knight released a video on Monday speaking out for the first time since their rescue.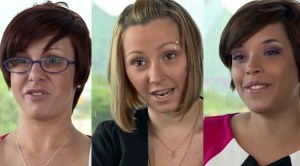 In videotaped interviews posted on YouTube, the women thanked the public for their support.
"I want to thank everyone who has helped me and my family through this entire ordeal, everyone who has been there to support us," Berry said in the video.
"It has been a blessing to have such an outpouring of love and kindness," she said.
Berry was last seen after finishing her shift at a Burger King in 2003 on the eve of her 17th birthday.
She has a 6-year-old daughter, who was born during her captivity.
Georgina "Gina" DeJesus disappeared at age 14 in 2004, and Michelle Knight vanished in August 2002, at age 21.
"Thank you for the support," DeJesus said to the public in the video.
"Thank you everyone for your love, support, and donations which helped me build a brand new life," Knight said.
"I may have been to hell and back, but I am strong enough to walk through hell with a smile on my face and with my head held high and my feet firmly on the ground," she said.
The three women were held captive by Ariel Castro and were beaten, raped and starved for a decade, according to prosecutors.
They were rescued in May after one of them shouted and alerted a neighbor while Castro was gone.
Castro was indicted in June on 329 counts, including one count of aggravated murder for allegedly causing the unlawful termination of a pregnancy.
He was due back in court for another pretrial hearing on July 24.